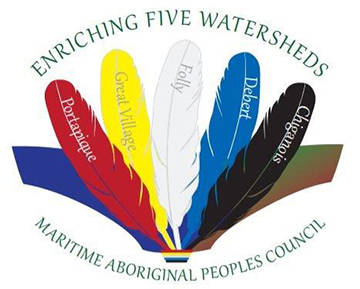 Rehabilitating and Restoring Unique Landscapes
Within Five Nova Scotia Watersheds Along the Bay of Fundy
The "Five Watersheds Project", is a multi-year Coastal Restoration Fund Project – a program component of the multi-year Oceans Protection Plan (OPP), of the Government of Canada.
The five-year project will address issues of coastal erosion and physical barriers to fish passage in the (1) Chiganois, (2) Debert, (3) Folly, (4) Great Village, and (5) Portapique Watersheds (the Watersheds), within the Cobequid Bay of the Inner Bay of Fundy in Nova Scotia. From that information, the Project will identify areas of habitat concern and create a restoration plan with a focus to ameliorate fish passage barriers caused by aboiteaux and erosion.
Four of the five watersheds within the scope of the project area are identified as critical habitat for the endangered Inner Bay of Fundy, (IBoF) Atlantic Salmon which contain the remaining native IBoF Atlantic Salmon populations. Through physical reconnaissance and surveys, planning, engineering and community support; this project will help to restore fish habitat by enhancing coastal entry points and removing obstructions from migration routes for IBoF Atlantic Salmon. The project will assess and propose innovative solutions for aboiteaux replacement on the Chiganois River. Through these actions, the project will help contribute to the recovery of the endangered IBoF Atlantic Salmon.
Rehabilitating and Restoring Unique Landscapes Flyer
Rehabilitating and Restoring Unique Landscapes Newsletter
Chelsey Whalen
Project Manager
Chelsey Whalen – originally from Toronto, Ontario, moved to Halifax, Nova Scotia with family when she was a child. Chelsey has always loved animals, and her dream was to have a small hobby farm! Chelsey and her boyfriend Steven, now live in Shubenacadie, Nova Scotia on a farm and raise chicks, and have laying hens, along with their three dogs. When Chelsey is home, she is always outside gardening, exploring nature, playing soccer, bird watching or by the water.
Chelsey graduated from Dalhousie University Faculty of Agriculture with a degree in Animal Science in 2016. Knowing she wanted to pursue a career in wildlife conservation, she went on to complete the Wildlife Conservation Technology Program at Holland College, in Prince Edward Island. She is especially interested in wildlife conservation, and is excited to be working on the Five Watersheds Project, and being involved with the recovery of the Inner Bay of Fundy Atlantic Salmon. At Holland College, she performed many different surveys for Parks Canada, focused on identifying wildlife, including fresh and salt water fish, birds and plant species. Chelsey has a broad past work experience, including working with wildlife rehabilitation, working with dairy and sheep at the Ruminant Animal Center at the Dal AC, and as a lab technician at the Canadian Blood Services.
Contact Chelsey Whalen
Email: cwhalen@mapcorg.ca
Phone: 902.895.6899
37 Forrester Street
Truro, Nova Scotia B2N 4B4
Canada
Abby MacLeod
Project Administrator
Abby Macleod has received postsecondary education in "International Development", and "Office Administration", along with experience in the corporate finance sector. A busy mom of four-year-old twin girls Jade and Lilah; Abby still finds time to explore the outdoors, visit farmer's markets, and enjoy the library with her daughters.
Abby is passionate about global development, and racial justice, and is outspoken on issues including systemic and environmental racism, and decolonization. Abby considers herself a humanist, and strives to understand the socioeconomic impacts of racial inequity.
Combining her education, work experience and passions, Abby was hired as the Project Administrator for the "Five Watersheds Project".
Contact Abby MacLeod
Email: amacleod@mapcorg.ca
Phone: 902.895.6899
37 Forrester Street
Truro, Nova Scotia B2N 4B4
Canada
Blake McNeely
Lead Technician
Blake McNeely
moved from Kingston, Ontario to Halifax, Nova Scotia with his Fiancée Sarah, and their Golden Doodle Rylee, in September 2018. Blake graduated from the University of Guelph in 2016 where he studied Geography and played on the men's varsity football team. Following graduation Blake moved to Kingston where he received environmental technician training at Loyalist College and continues his education today through online GIS courses at the British Columbia Institute of Technology.
Blake enjoys backcountry camping, hiking, and canoeing. He has canoed through many of the provincial parks in Ontario and is looking forward to exploring Nova Scotia's backcountry come summer. Blake is passionate about environmental conservation and is very excited to be a part of the Five Watersheds Project and the effort to restore the Inner Bay of Fundy Atlantic Salmon population. He was previously employed at the Cataraqui Region Conservation Authority, working as a watershed monitor, where he gained a diverse range of watershed and wildlife monitoring experience.
Email: bmcneely@mapcorg.ca
Phone: 902.895.6899
37 Forrester Street
Truro, Nova Scotia B2N 4B4
Canada