The Maritime Aboriginal Peoples Council as a regional Aboriginal Peoples Advocacy Group, has the expertise and capacity to undertake a range of "pilot or regional" programs or initiatives. These programs and initiatives are agreed to by the Member Councils and the results or reports flowing therefrom are reflective of all three Council postures or positions, as well as that of MAPC.
Sometimes, in the context of international subjects, MAPC will be mandated responsibility by the Member Councils, or National Organization, or Traditional Leaders, to follow a subject, make attendances, draft submissions, present same, and report on the outcomes by informal brief or by public paper.
Many of the publications available in the publications section on this web site are the result of specifically mandated projects, programs or initiatives undertaken by MAPC on request.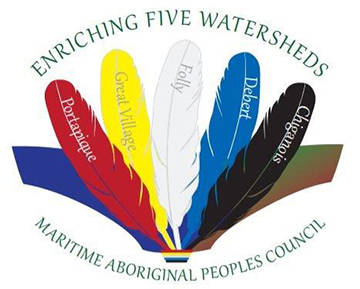 Rehabilitating and Restoring Unique Landscapes
Within Five Nova Scotia Watersheds Along the Bay of Fundy
The "Five Watersheds Project", is a multi-year Coastal Restoration Fund Project – a program component of the multi-year Oceans Protection Plan (OPP), of the Government of Canada.
The five-year project will address issues of coastal erosion and physical barriers to fish passage in the (1) Chiganois, (2) Debert, (3) Folly, (4) Great Village, and (5) Portapique Watersheds (the Watersheds), within the Cobequid Bay of the Inner Bay of Fundy in Nova Scotia. From that information, the Project will identify areas of habitat concern and create a restoration plan with a focus to ameliorate fish passage barriers caused by aboiteaux and erosion.